What is MindWell?
MindWell brings together and shares information about psychological, subjective, and spiritual well-being, helping our community engage in experiences to promote fulfillment, creativity, personal relationships, and community engagement.
Have a question, concern, or an idea? We would like to hear about it!
Email us at: MindWell@ucla.edu
Robert Bilder, Ph.D., ABPP-CN
Robert Bilder is the Tennenbaum Family Professor of Psychiatry & Biobehavioral Sciences, Chief of Medical Psychology – Neuropsychology at UCLA's Semel Institute for Neuroscience and Human Behavior, and Director of the Tennenbaum Center for the Biology of Creativity. His research has focused on the links between brain and behavior, using tools spanning genetics, neuroimaging, cognitive and other assessments of human behavior.  He is particularly interested in studying dimensions of brain function to help eliminate artificial boundaries between mental illnesses, between health and disease, and between the brain mechanisms involved in exceptional and everyday creativity. Recently he has been engaged in research on the NIMH Research Domains Criteria initiative, with a focus on working memory processes. He also co-directs the MindWell pod within the Healthy Campus Initiative to concentrate on how we can support resilience, well-being and creative achievement at UCLA and beyond. Finally, Dr. Bilder has been studying the brain bases of creativity across species, and identifying brain and behavioral traits associated with exceptional or "Big C" creativity in humans.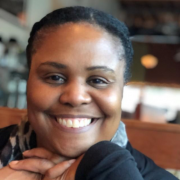 Nicole Presley Green, Ph.D., Ed.M
Dr. Nicole Green currently serves as the Executive Director of UCLA Counseling and Psychological Services (CAPS), the Campus Assault Resources and Education (CARE) program, which provides sexual harassment and sexual violence prevention and advocacy services, and the Resilience In your Student Experience (RISE) Center, which provides mental health and well-being education and prevention services for students. Dr. Green is a counseling psychologist who received her Ph.D. in Counseling Psychology at the University of Southern California. She received her Ed.M. from Harvard University Graduate School of Education and her BA in Psychology from UCLA.  Her areas of interest include student resilience and academic success, particularly among students of color, African American family issues, and sexual assault, and intimate partner violence issues. Dr. Green is actively involved in the Organization of California Counseling Center Directors in Higher Education (OCCDHE), the Association of University of College Counseling Center Directors (AUCCCD) and Southern California Association of Black Psychologists (SCABPsi). Dr. Green is the recipient of the Minority Fellowship Program Award from the American Psychological Association.
Current Projects 
Mind Lexicon Project:
The Mind Lexicon Project aims to determine the "lexicon" or vocabulary students use to discuss mental health and psychological illness in order to conduct better mental health outreach on college campuses and promote psychological resilience. We are currently analyzing results of a survey that asked students how they define common mental health terms and designing a curriculum based on results.
Campus Resource Mapping Project:
In Winter 2017, students, staff, and faculty convened to discuss better integrating communications on the diverse wellness resources available on campus.  The Campus Resource Mapping Project (CRM) aims to develop a web-and phone based application to increase accessibility to the full breadth of available resources to UCLA students, staff, and faculty.
Eudaimonia Award:
Aristotle distinguished hedonia (the brief, fleeting happiness derived from immediate satisfaction of drives) from eudaimonia (the sustained happiness that comes from living a life rich in purpose and meaning; human flourishing). In April 2017 we honored marathon runner and Eritrean refugee Meb Keflezighi with the inaugural UCLA Eudaimonia Award in recognition of his exemplary commitment to a life rich in purpose and meaning. The Eudaimonia Award is now being expanded into an annual recognition award to highlight members of the UCLA community who, through their immense personal efforts, inspire others to seek Eudaimonic well-being.
Mind Body Initiative
Building off of priorities outlined at the November 2015 Mind Body Summit, MindWell is involved in laying the groundwork for a new interdisciplinary initiative focused on the mind-body connection. Academic priorities include expanding GE courses to include wellbeing elements, developing a graduate certificate program in mind-body studies, and researching the possibility of a new undergraduate major in mind-body studies.
Want to get involved in any of our current projects?
Email us at mindwell@ucla.edu!