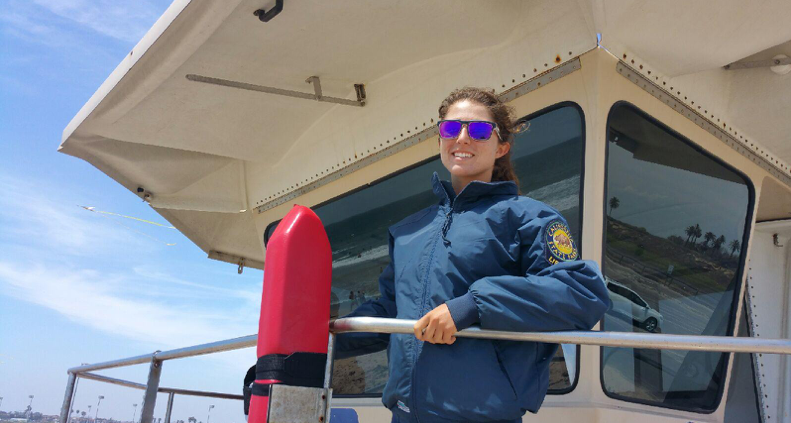 Eudaimonia Society Spotlight: Madison Feldman
Madison Feldman is a third-year undergraduate student at UCLA studying Geography with a Conservation Biology and a Geospatial Analysis & Technology double minor. Along with classes, Madison works as the Undergraduate Coordinator for HCI, gardens at the jane b semel HCI Community Garden and DIG UCLA Garden, and enjoys ocean sports, such as dory boat and beach volleyball. She also hosts the show Groovy Smoothie on UCLA Radio every Thursday at 10 a.m. to talk about the environment, food, health, and other passions of hers.
Madison was nominated for the Eudaimonia Society because she is high energy, enjoys life, and spreads that energy to those around her. She also manages to check-in with her peers and support them in both personal and professional ways.
To Madison, eudaimonia means being in her flow: "When I'm connecting different people to different resources and opportunities that I think could benefit them and that they're passionate about, that's when I feel like I'm in my flow. That's what gives me passion, or 'sustained happiness.'"
Madison mentions there are many resources on campus she loves sharing, including HCI's student grants program and volunteering opportunities. "Almost like a megaphone, if I find out about an opportunity to volunteer at a school, I try to share that with as many people as possible. I'll tell people, 'Oh, are you busy this day? You should go!' So I'll just bring up current events and activities people can actively participate in and share that with them."
In order to accomplish her goal of sharing resources, Madison mentions that talking to people is incredibly important for her. "If you don't talk to people then you don't know what their interests are or what their passions are, so you can't really connect them to anything," she says. "So, that's important, just being able to talk to people. I know I always make awkward eye contact or make weird faces or noises sometimes because it's kind of scary to talk to people you don't know. But I think that the payout of putting yourself in a situation where you have to reach out and say, 'Hey I like your jacket!' and you start talking and, I don't know, it's just willingness to be open to other people. It's terrifying, but I think it really helps you be able to engage with other people and find out what's important to them."
When asked about how she balances school, work, and her healthy lifestyle Madison says, "I'm working on improving that!" Primarily, she recommends "just knowing what your limits are, learning about yourself, and respecting the standards that you set for yourself."
Specifically, Madison recently joined the swim team. She says it's "helpful because independently working out can sometimes be difficult. I like to be on a team. Being accountable to go and see my team and go to a scheduled workout is really helpful to get workouts and exercise into my regular schedule. And this quarter I'm also just working on more alternative workouts: instead of walking I can run to class or take the stairs instead of the elevator. Just something to help me get exercise, that's how I feel balanced with my work."
Madison also acknowledges that sleep is really important. "I go to sleep early and I wake up early. I guess I'm a morning person. Ideally, I would love to go to sleep at like 9, or even 10, and then wake up at 5 in the morning and do my work because that's when I feel focused and there's less distraction." Part of her self-care is setting boundaries of when she needs to leave to go to bed: "If I'm in a situation that has me out really late, I'll be like 'it's time for me to go,' standing up for myself and saying I have to leave now."
Another helpful tip Madison gives for living a healthy life amidst a busy schedule is meditating: "Right when you wake up, instead of going right to starting your work or doing whatever, which is what I usually do, waking up, stretching, [meditating] and then entering the real world. That's something I'm working on." Overall, Madison says living a healthy life with a busy schedule is mostly about "being flexible and adaptable" and understanding that "it all takes practice."
Madison's passion of helping connect people to resources expands to her goals after college. Interested in conservation, Madison wants to do research in Costa Rica and eventually go into coastal conservation and outdoor education and science. "Raising people's awareness about conservation is where I see myself fitting in. Like, bringing awareness to things, now bigger than just a resource but it's more on the larger natural scale. It's kind of using that skill, that interest of mine, to connect people to resources about what's happening around them."
The advice Madison would give to someone looking for purpose in their life is to just explore. "I think the best way to grow is to keep taking steps in a direction and then once you get to the dead end of that, turn, and see if there's another direction and take that. Because I've taken so many random classes, I've gotten injured, there's been a lot of paths that I thought I wanted to take, like becoming an RA for example. I really wanted to become an RA and I didn't get selected and that led me to working with HCI. There's a lot of stuff, like being injured in one sport led me to being a rower and then I was recruited. So there's just a lot of things that feel like, 'Oh my gosh this is horrible!' but you have to keep trying something. Keep going!"
————-
Madison will be inducted into the UCLA Eudaimonia Society on April 24th, as part of a TEDxUCLA Salon on altruism, hosted by the MindWell pod. Click here for more information about the event and for tickets.
Aurora Finley is an undergraduate student at UCLA majoring in English. Along with blogging for the UCLA Healthy Campus Initiative, she is the Sexperts Executive Director for the 2017-18 academic year. She is also a regular volunteer for UCLA's Habitat for Humanity chapter and blogs for the online UCLA Odyssey community.
https://mindwell.healthy.ucla.edu/wp-content/uploads/sites/6/2018/04/Picture1.png
445
791
uclahci
https://mindwell.healthy.ucla.edu/wp-content/uploads/sites/6/2020/10/MindWell-white-background-1030x1030.png
uclahci
2018-04-23 10:19:45
2018-04-23 10:19:45
Eudaimonia Society Spotlight: Madison Feldman